Hiyoshi Art and Performance Project (HAPP))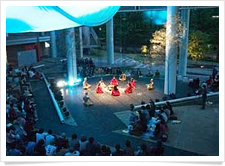 HAPP is short for "Hiyoshi Art and Performance Project." Since 1994, various annual events have been held under the general theme of "Heart, Body, and Mind"
These events are intended for all students, with the specific emphasis on incoming students. The events feature the ways in which various forms of knowledge are presented through a variety of projects, with the goal of providing opportunities to consider the meaning and possibilities of "learning" not only in college, but throughout one's lifetime. Student and faculty initiative projects are organized and operated on campus, including incoming student receptions and publicly planned events.
Future Conferences
Hiyoshi Art and Performance Project (HAPP)

Contact
Hiyoshi Art and Performance Project (HAPP)
MAIL:
hy-happ@adst.keio.ac.jp