Greetings from the Director
Presently, although many universities have established "liberal arts centers" and "lifelong learning." Keio Research Center for Liberal Arts is likely the sole research center for liberal arts in Japan. "Liberal arts" is an essential requirement for human beings. However, currently there is no one who can clearly answer the question as to what is its form, function, or purpose. For example, Matthew Arnold in Culture and Anarchy (1882) saw "liberal arts" as "culture." In addition, T.S. Elliot, in his essay "What is a Classic?" (1944), expressed "liberal arts" in terms of "maturity." Furthermore, I myself perceive the "recommendation of studying" referred to by Fukuzawa Yukichi as a recommendation of "liberal arts" with the meaning of promoting a learning attitude. In any case, this is their own intuitive statement on "liberal arts." I believe that the ultimate purpose of the Research Center for Liberal Arts is to conduct research so it is possible to glean as clear an answer as possible to these questions: "What are the liberal arts?" "What sort of role does liberal arts play?" and "What are the liberal arts needed for?"
 The Research Center for Liberal Arts has previously tackled the practical use of the liberal arts through various methods. There have been developments in the area of first-year education through new methods such as "Academic Skills," with overflow from other fields such as "Hiyoshi Studies" and "Embodied Knowledge." The center has incorporated new fields that do not belong in conventional course offerings such as "The Liberal Arts of Life" and "The Liberal Arts of Information." In addition, experimental applications involving regional collaboration have been attempted, including HAPP, Kadobeya, and Hiyoshi Campus public lectures. Furthermore, through the kindness of Tsuruoka City in Yamagata Prefecture, a very significant attempt is being made with "Shonai Seminars" to truly appreciate the fullness of life and consider "What it means to live," rather than simply experience classroom learning. The major role of this center is to clarify the meaning and appearance of liberal arts through research activities, and to explore ideal liberal arts methods and content through practical experience. My hope is that we will continue to actively approach things in this manner.
 The liberal arts are, for example, similar to medicine, in that they are simultaneously something that individuals and all of society must have. Liberal arts, compared to specialized technology, appears not to be useful for everyday life; however, that is general misconception. For South American political prisoners who have had everything taken away and are imprisoned, the liberal arts of music, the arts, theater and culture (the humanities) are indispensable to their humanity. It has been stated that "I believe they are more important than food" (Keynote speech by David Schalkwyk at the International Federation for Theatre Research, University of Warwick, 2014). The liberal arts of a sound mind has already been called a matter of life and death. For the Research Center for Liberal Arts, the problem of what liberal arts are must be faced head-on and practical research into liberal arts must be developed. Liberal arts must be placed back into education and made available to wider society. I believe that liberal arts research and the liberal arts education, as well as setting the foundation for each, is an essential activity for universities in order to foster well-rounded individuals. We ask for your cooperation in this endeavor.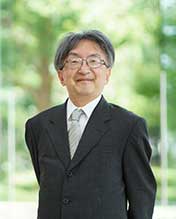 Director of the Research Center for Liberal Arts
Hayato Kosuge
Hayato KOSUGE is professor of Foreign Languages and Liberal Arts in the Faculty of Science and Technology in Keio University. He is Executive Committee member of International Federation for Theatre Research (IFTR) since 2013; Organizing Committee member of PSi (Performance Studies international) #21 Fluid States 2015 and representative of its Tohoku cluster. He finished doctoral course in 1990 at Keio. He is visiting scholar at the University of Cambridge in 1996-98, and Stanford University in 2003. His research interests include the Japanese underground movement of the 1960s and 1970s, with a focus on Butoh performance. He is involved in the Hijikata Tatsumi Archive in Keio University Art Centre with project leader of the research group, Portfolio Butoh, and is a research fellow at the Research Institute for Digital Media and Content, Keio University. He is also interested in English Tudor drama mainly focusing on Shakespearean dramaturgy, referring to Japanese Shakespeare productions and their cultural context. He is editor and coauthor of Fuhai to Saisei (Corruption and Regeneration) in 2004, and coauthor of Shintai I Bunka-ron (Body, Medicine, and Culture) in 2002; among his English publications is "Transformed and Mediated Butoh Body: Corpus Moriens in Hijikata's Earthen Statue Project" in 2013. He was born in 1962 in the small town famous for grapes and wine in Yamanashi prefecture. He loves cats, roses and Shakespeare.