Kotobuki-Based Alternative Place "Kadobeya" ("Corner Room")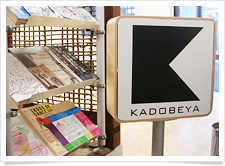 "Kadobeya" was established jointly by Koto-Lab LLC and Keio University in April 2010. From June of that year, "Moving Classrooms" were held every Tuesday at Kadobeya as part of the civil engagement activities sponsored by the Program for Promoting University Education Reform of the Ministry of Education, Culture, Sports, Science and Technology. The event involved physical exercise, talking to, and also eating together, with the aim of facilitating exchanges between people from various backgrounds.
At the end of the project's term in March 2012, members involved in the university education projects and the "Moving Classrooms" established "'Alternative Space: Tuesdays in Kadobeya." Other than the continuation of the "Moving Classrooms," the objective was to host "Open Days" every Tuesday that were accessible to a greater number of people and in which attendees could freely gather wherever they felt comfortable.
Kotobuki-Based Alternative Place "Kadobeya" ("Corner Room")

Aims
Content (Kadobeya: present and future)
History