Learning Through Affective Experience and Active Participation: from Language to Films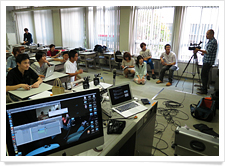 This is a new class format designed to deepen the possibilities of various language capabilities through the creation of film. You will be challenged in various forms of expression ? verbally, physically, visually, etc. ? by analyzing movies and novels, writing screenplays, and participating in video production workshops.
In the preceding "Academic Skills III and IV" classes, we have invited guest lecturers including artists, Shu Matsui (playwright) and Meiro Koizumi (video artist). So far we tackled film adaptations of Haruki Murakami's "Wherever I'm Likely to Find it" (2011); Natsume Soseki's "Ten Nights' Dreams" (2012); Raymond Carver's "Cathedral" (2013); Kazuo Ishiguro's "Come Rain or Come Shine" (2014); and Isaac Asimov's "Liar! (from I, Robot)" (2014). Most attendees have had no video production experience. Nevertheless, all of the completed works have been impressive. In order to create works that appeal to the audience's mind, you need basic skills such as an understanding of story structure, knowledge of film language, and more importantly, teamwork. As you repeat the various workshops, yours and others' visual and acting sensibilities will become clear. When you gather a team that can express its individual interests freely, then your works will take on their own forms. In this class, it may take time to progress, but then you will be able to assume forms of expression and communication that expand your own academic boundaries.
Aims
Content