Hiyoshi-ology
Study Deep in the Past and the Present at Hiyoshi Campus, Keio University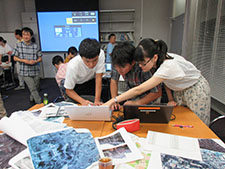 Are you aware of the expansive woodlands and various archaeological sites on Hiyoshi Campus?

The woodlands at Hiyoshi are inhabited by over 1200 species of birds, insects, and plants, while across the plateau at Hiyoshi are historical buildings and archaeological sites dating from the Jomon period through to the present day, including the vast underground network of tunnels used by the Imperial Japanese Navy as a secret base during the Asia-Pacific War.

"Hiyoshi-ology" is a program which employs this rich natural and historical backdrop as the stage for students to identify issues through observations and investigations from multifaceted perspectives unconstrained by the distinction between the humanities and sciences, and to work on resolving issues and presenting results through groupwork.

In "An Encouragement of Learning," Yukichi Fukuzawa, founder of Keio University, spoke of the "observation of things" as the first step to learning. "Hiyoshi-ology" will encourage students to train their "gaze" on the nature and history in their surroundings through lectures complemented by first–hand observations, fieldwork, and experiments. They will then proceed to open up their discussions towards various issues which remain of relevance today. Students will learn the importance of dialogue and collaboration with others as well as individual initiative for problem identification and resolution when working on issues in groups. At the same time, they will refine their ability to observe and achieve insights based on a broad outlook individually.

In an age when society faces a diverse set of challenges, it is important for students to become able to form creative ideas [and solutions] born out of multilateral perspectives, not limited along traditional academic boundaries of the humanities and sciences. This course aims to enhance such intellectual exchanges and provide students with impetus to the nurturing of such creativity.


Course Content
The course is organized on heuristic principles, not taught in a "lecture-style" whereby students only passively acquire the knowledge that is imparted by lecturers; instead students are encouraged to utilize their knowledge and apply their minds and bodies toward the resolution of problems they have identified.

Students are asked to produce outputs in the form of an essay and oral presentation, integrating what they have learned through critical appreciation and analysis of lectures, the knowledge they have acquired through research reading, and the discussions they have had with their instructors and peers. The objective is a presentation followed by a 4000-character essay [half a year course].


Features of the class
Training Academic Skills
The 4000-character essay (in Japanese) is not simply a summary writing of one's knowledge. Deciding how to formulate a research question is the difficult first step for essay writing and requires intellectual training. Students are encouraged to find a subject of their own interest through lectures by specialists from different areas of expertise, fieldwork, experiments, and discussions, and then set out to conduct preliminary research on the subject
Through composite learning modes like these, students will formulate a research question and proceed with the more-focused research and preparations for writing their individual essay and presentations. Toward the final presentations, students must hold their own during the tough questioning of faculty members, as well as experience the heated feedback sessions that are held between students and faculty members. Of course, students will also learn technical aspects of essay writing.
Unique Class at Keio University
The theme of this course rotates every three years between "Hiyoshi in the Jomon/Yayoi period," Hiyoshi in wartime," and "Landscape of Hiyoshi." This class will stimulate the intellectual curiosity of students, allowing them to fully appreciate of the historical uniqueness of Hiyoshi, a campus which is situated among sites where Jomon artefacts were discovered and historical remains of World War II. Students will have opportunities to experience Keio's treasures excavated during the Jomon period and little-explored areas of the campus that lie beyond the ordinary sphere of university activities.
The form of diverse and enthusiastic learning
A diverse team of lecturers and broad range of attendees is another attractive aspect of this course. Eligibility is from Keio University junior high school students (observers) to graduate students. Working together with participants from different age groups, students will be stimulated by the diversity of ideas and can learn how to adapt to differing opinions in the groupwork.
"Hiyoshi-ology Completion Certificate"
Students who successfully complete the class will be awarded a "Hiyoshi-ology Completion Certificate," and in the case of the Jomon course, will become a certified "Hiyoshi Jomon Specialist." A public presentation event for invited guests is also planned.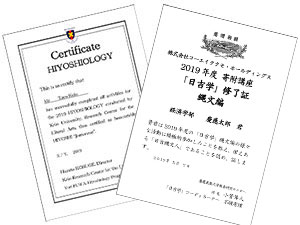 Making of Hiyoshi-ology: a history
The Keio Research Center for Liberal Arts' tenth anniversary plan was the impetus which gave life to the concept of "Hiyoshi-ology." While walking around the campus and discussing the future of Hiyoshi with faculty members from the Graduate School and the Institute of Physical Education, we were struck by the thought that if we jointly created an education program then an impactful class could be developed by taking advantage of the respective specialisms and educational accomplishments of the diverse faculty members at Keio University. The program was put together through repeated discussions from an initial blank state in terms of approach and theme setting. A new campus map of Hiyoshi and a new forum for both faculty members and students are significant fruits of this experimental class. It has produced a new platform for fresh educational outcomes for faculty members, who can exchange information and teaching methods; for students, who can learn together in an unfettered spirit about Hiyoshi; and for Keio affiliated students from local junior and senior high schools who can put together joint presentations with fourth-year university students. Drawing on this experience, the program was finally set to be launched as an official class in 2019. During these formative years of experiments, Hiyoshi-ology was funded by various grants from Keio University.
In this way, the experimental class that begun in 2013 was to be reborn as the endowed course "Hiyoshi-ology."
You can trace the playful and adventurous nature of Hiyoshi-ology, as well as the earnest endeavors underlying the learning from the activity log up to now:
http://lib-arts.hc.keio.ac.jp/hiyoshi/
(available in Japanese only)
We welcome the enthusiastic participation of students from across Keio.
*The endowed course "Hiyoshi-ology" is only possible through the support of KOEI TECMO HOLDINGS Co., Ltd., which is headquartered in Hiyoshi.
We would like to use this opportunity to again convey the gratitude of Keio University for the KOEI TECMO HOLDINGS Co., Ltd.'s many years of support.